Scalable architectures for improved collaboration
solutions address companies that wish to bring flexibility and efficiency to their employees, in their daily collaboration or in dealing with customers and partners. With these solutions, businesses provide their teams with secure and multi-featured collaborative services that are made available through a user-friendly interface in the work environment.
By closely integrating communication tools, collaborative features and the IT environment, Hedra delivers on the pledge of collaboration. This is achieved through scalable architectures that offer a simple, user-friendly and highly secured access to all features, for both onsite and remote employees.
Our Solutions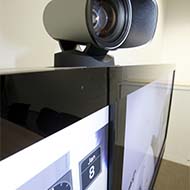 Collaborative features, including agenda and document sharing
Hedra offers market-proven solutions to schedule meetings based on the availability of participants, and set up online meetings with the sharing of documents that can be edited in real time.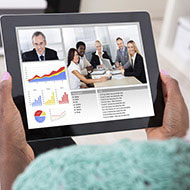 Videoconferencing
Hedra adds video to communications between two persons, or to meetings involving several participants. Access to the video features is made simple and secure. Quality videoconferencing is a great alternative to face-to-face meetings, offering immersive and interactive sessions with colleagues, partners and customers.
IM and corporate social networks
Instant messaging has also proved its worth for real-time brief communications. Social networks is a valuable asset too to encourage sharing trough discussion groups.
Presence management
Hedra supports the enablement of presence management tools that provide visibility on the availability of coworkers, and on their preferred means of contact
The Hedra Benefits

Collaboration made easier, on site or remotely
Collaborative tools provide employees with an easy access to all their communication tools. Text, voice and video conversations can be held choosing the communication media best suited to the other party.

User ergonomics and enterprise agility
As communication tools are seamlessly integrated in the corporate work environments, fixed and mobile users stand to benefit from improved ergonomics. Communications become easier and more fluid.

Mobiquity and ATAWADAC (Any Time, Any Where, Any Device, Any Content)
Tools are made available right from the user's desk or when travelling. Mobile users benefit from increased flexibility while accessing their resources and communication tools in a fully secure way.
Communication delivered as a Service (UCaaS)
Hedra streamlines your systems by using a single and integrated communications platform. This deployment helps cut down costs, as it serves as an alternative to travelling. When delivered as a Service (UCaaS), Unified Communications can be deployed and priced through a Pay-as-you-grow model.